:: FOR 7 STRAIGHT DAYS ::
You'll blend a daily green smoothie that will fuel your body and boost your energy. Simple 7 makes healthy eating habits affordable, delicious, simple and quick.
(Because who really wants to do it any other way?)
:: A FREE 7-DAY EXPERIENCE ::
Ready for the healthy habit that'll boost your energy levels naturally and really make a difference in your life? Something simple. Something quick. Something that will stick. And maybe… just maybe something that actually tastes good. Then you're def at the right place. #pinkypromise
— WHAT'S INCLUDED —
SHOPPING LIST w/ JUST 7 SIMPLE INGREDIENTS (super affordable)
SIMPLE 7 GUIDE BOOK (digital download)
MEMBERSHIP TO THE SIMPLE 7 SQUAD (community support)
:: WITH SIMPLE 7, GET READY TO ENJOY ::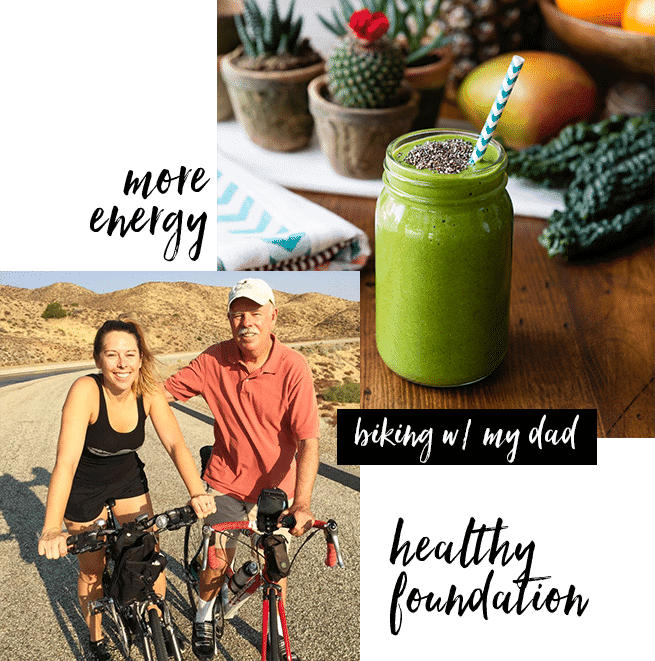 • The healthiest fast food… ever (under 7 min total)
• Energy that outlasts any caffeine fix (it's possible!)
• Affordable ingredients (you can actually pronounce + recognize)
• Delicious green smoothie recipes (you'll wish you made enough for seconds)
• Daily accountability to keep you on track (you're not alone)
• Access to the Simple 7 Squad Facebook group to make new wellness friends
For the next 7 days, you'll drink a daily green smoothie. You should still eat regular meals and move your body— this is not a starvation diet. We're taking steps towards a healthier lifestyle that's sustainable, builds momentum and encourages a positive mindset.
We believe in health AND happiness. #noexceptions
Heck, you can even still drink soda, eat ice cream and maybe even a bag of chips (we aren't here to judge). Yet by the end of the 7 days, we have a feeling you aren't gonna want those things as much as you used to (and we'll celebrate with you!).
Oh, and did you catch that this is a FREE program? #nojoke
:: HAVE A QUESTION? ::
(WE'VE GOT YOU COVERED)
IS THIS VEGAN-FRIENDLY AND GLUTEN-FREE?
Yes! We avoid all dairy and animal products with our green smoothie recipes. They are also gluten free… and insanely delicious!
I HAVE A MEDICAL CONDITION. IS THIS SAFE FOR ME TO DO?
We would love for everyone to be a part of Simple 7, but we understand that it's not for everyone. Since we are not doctors or nutritionists, we ask that you consult your healthcare provider, they will know what's best for you, personally.
WHO WOULD BENEFIT FROM SIMPLE 7?
Anyone who is ready to start making healthy eating a part of their lifestyle and not just a diet. Your body will love you for it!
DO YOU INCLUDE CALORIES FOR YOUR RECIPES?
Our smoothies are nutrient-rich and therefore give back to the body, and will balance your blood sugar, keeping your energy at a steady flow. Rather than focus on calories, It's much more important to focus on having good quality ingredients to get all the goodness that you need.
Calories are deceiving and not the basis for determining what is healthy. For example, if something is low in calories, it's not necessarily good for you. In fact, it's often the opposite. Food that is low in calories, like a piece of white bread, is not only void of nutrients, it saps extra nutrients from your body to process it. It also turns to sugar once it's digested which then contributes to weight gain. Change it to a wholegrain bread and add some avocado or nut butter, and suddenly you have something much higher in calories, but a slow burning fuel that will continue to serve your body for hours.
I'VE TRIED "FAD DIETS" AND THEY NEVER WORK. HOW IS SIMPLE 7 DIFFERENT?
This is not another diet. It's a FREE 7 day program to help you embrace a daily habit that can truly transform your body from the inside you. We encourage you to eat regular meals throughout the day and listen to your body if it's hungry and what it's craving.
IS IT EXPENSIVE TO BUY THE FOOD?
Depending how often you buy fruits and veggies, your grocery bill could increase slightly, but please … don't freak out! You're investing in your health… and you're worth it! Here's how we think about it: you can either pay more upfront for fresh produce and real whole foods, or pay down the road in poor health with medical bills. It's an easy choice once we lay it out like that, right? So don't give yourself a hard time over a slightly higher grocery bill.
WHAT IF I'M REALLY BUSY? CAN I STILL DO IT?
I'm an action-packed, work-from-home mama, so I totally get busy. Green smoothies are the healthiest fast food— I use them as meal replacements throughout the day when I'm crazy busy. So they are truly the solution for staying healthy when you're crazy busy.
DO WE JUST DRINK SMOOTHIES ALL DAY, OR CAN WE EAT REAL FOOD, TOO?
We encourage you to drink one green smoothie a day, and eat regular meals around that. We recommend drinking your smoothie in the morning for breakfast or a snack… but it's totally up to you. There's no hard rules with Simple 7— just get that daily green smoothie in you body for seven days.
WILL I LOSE WEIGHT WITH SIMPLE 7?
Weight loss does not happen in the same way for everyone. It's dependent on an individual's genetics, hormonal balance, past history, metabolism, fluid balance and exercise regime. Weight can also be tied up in emotions. It's a complex one. Remember Simple 7 is about creating healthy habits for your body – you're working towards the best version of you possible, and that's about much more than weight loss. Any long lasting change takes time to establish, and healthy eating is no exception. If you stick with it, you'll eventually see results.
READY TO JOIN THE SIMPLE 7 SQUAD? (IT'S FREE!)