Shortly after working out, it's an excellent time to replenish your body with nutrient-rich foods and help it recover. A protein-packed post-workout green smoothie is a great way to do it.
We've gotten many requests over the last few years regarding protein powders. Many of you have written to us or commented about which one(s) we could recommend. Up until now, there hasn't been a protein powder that we could really get behind. It had to meet our strict criteria of being 100% natural, full of plant-based protein, and NOT taste horrible. If you're familiar with protein powders, you know taste can be a real deal breaker!
Why protein powder? Why plant-based?
Well, we know it's important to get enough protein, especially if you're eating a predominantly plant-based diet. Usually with a well-balanced diet you should be getting plenty of protein, even if you are plant-based. Chances are though, if you're working out and lifting weights, your body may require extra protein. That's where a high quality protein powder comes in handy.
Plant-based protein powders are easier to digest than highly processed whey-based powders (which also contain loads of additives and sugar), mix better with water, and have little to no taste unlike their whey counterparts. Plus with plant-based protein powders, there is the added bonus of the other nutrients like healthy omega-3 fatty acids and fiber. We like The Natural Citizen because it contains four ingredients ONLY. Nothing else.
Some of the best plant-based protein sources out there are included in The Natural Citizen Organic Protein Powder: hemp protein (from the entire sprout), brown rice protein (from entire sprout), pea protein (entire sprout), and sacha inchi (entire sprout). Each serving contains 15 g of vegan, non-GMO, gluten-free, organic protein, along with the natural fiber, omega fatty acids, and amino acids from the ingredients. No fillers or extras. Period.
Dan, a member of our SGS Team, says:
"Hands down the best plant-based protein powder I've ever tried. All the other protein powders seem to have a weird aftertaste, or they add flavors that are too strong. The Natural Citizen protein powder is pretty much tasteless and I'm not even hungry at lunchtime when I add it to my breakfast green smoothie." -Dan
We created this Post-Workout Protein Green Smoothie to be as well-balanced for post-workout recovery as possible, and tasty. It includes spinach (contains iron and calcium; can help with building muscle), tart cherry juice and pineapple (antioxidants help with recovery and preventing inflammation), and orange (vitamin C and potassium) – some of favorite post-workout foods, and of course, The Natural Citizen Organic Protein Powder. Powerhouse recovery smoothie!
Print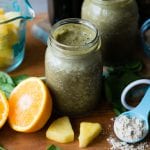 POST-WORKOUT PROTEIN GREEN SMOOTHIE: CHERRY PINEAPPLE
Prep Time:

5 minutes

Total Time:

5 minutes

Yield:

2 servings

Category:

Breakfast, Drinks
---
Description
After a heavy-duty workout, your body needs its energy stores replenished. This smoothie is hydrating, full of organic, plant-based protein, and nutrients to help your muscles recover.
---
Ingredients
2 cups spinach (fresh)
1 cup 100% tart cherry juice (unsweetened)
1 cup water
2 navel oranges (peeled and seeded)
2 cups pineapple (frozen)
6 tablespoons The Natural Citizen Organic Protein Powder
---
Instructions
Blend spinach, tart cherry juice, and water until smooth.
Add remaining ingredients and blend again until smooth.
---
Notes
Note: To make smoothie colder, serve over ice.
Disclosure: This post contains affiliate links which means we earn a small percentage for every purchase. Thank you for supporting us and the brands we love.