Enjoy this immune boosting green smoothie chock full of green vegetables, and herbs, with a touch of mango for natural sweetness.


Getting sick is no fun at all. It can mean missing work or activities, plus who wants to feel yucky anyway? Not us! This Mango Ginger Immune Boosting Green Smoothie recipe was submitted by one of our community members, Gregory Y. And we're glad he did! If we can sip up some immune-boosting, leafy green goodness to ward off illness, we're on board 100%!
Did you know that ginger clears sinuses and soothes a sensitive stomach? We include ginger in some of our favorite home remedies for cold and flu for that very reason. Plus, you gotta love that ginger kick!
Parsley supports kidney function by flushing out excess fluid from the body – fresh lemon juice helps with this, too. It is totally LOADED with vitamin K – 1/2 cup is more than 500% the daily value. Whoa! And it also contains 55% (in 1/2 cup) of vitamin C. We all know how important vitamin C is for keeping our immune systems in tip-top shape. The volatile oils and flavonoids in parsley have also been shown to be powerful antioxidants and may even fight the formation of tumors. (source)
Cucumber and celery add even more vitamin K, which is good for blood clotting, and add an extra punch of refreshing flavor. Plus they are very hydrating and contain lots of dietary fiber and natural sodium.
Print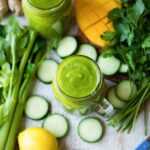 MANGO GINGER IMMUNE SUPPORT
Prep Time:

5 minutes

Total Time:

5 minutes

Yield:

2

Category:

Breakfast, Drinks
---
Description
Recipe submitted by Gregory Y.
---
Ingredients
1 cup celery
1 cup parsley (fresh)
2 cups water
1 cucumber (peeled)
1 inch ginger (fresh)
3 cups mango
1 lemon (peeled and seeded)
---
Instructions
Blend celery, parsley and water until smooth.
Next add the remaining ingredients and blend again.
---
Notes
*Use frozen fruit to make smoothie cold.