If you've made the commitment to include more nutrient-rich, plant-based fare in your daily life, I'm sure you've experienced first hand the benefits of including healthy foods in your diet.
Whether it's more energy, increased focus, better sleep, working toward or maintaining a healthy weight, glowing skin, or better digestion—it's clear to see that eating fruits, veggies, and other whole foods has tons of benefits.
Most parents I speak with are looking for ways to get their children excited about eating healthy foods, too… especially since school has begun!
We all want our kids to experience the benefits of healthy eating, and want to set them for success to make healthy choices on their own. After all, even if we provide healthy options at home, when kids are eating away from home–such as at school, birthday parties, or sleepovers–we're not always there to see what they're actually putting in their bodies (and I know—as a parent, it can be hard to give up control!).
So, with all that in mind, how can we encourage our kids to make healthy choices, especially when they're not under our supervision? Or for parents working with picky eaters (I've been there!), the question may simply be, how do I get my kids on board the healthy eating bandwagon?
Through trial and error, my husband, Ryan, and I have come up with some tools to help empower our kids to make healthy choices—even when they're away from home. No, they are definitely not perfect and I don't expect them to be. But everywhere we go we're complimented on how well our kids eat.
Four tips to encourage kids to choose healthier options
#1. Give kids the power to choose and then talk about consequences.
Ryan and I make an effort to have our family eat as many whole, nutrient-rich foods as possible, but we are by no means perfect. For example, we do eat fast food occasionally, and when we do, we like to take a moment for all of us check-in with ourselves afterwards. Someone is usually having tummy troubles or just feels lethargic. This has helped our kids learn about the connection between the foods we eat and how we feel. They don't always avoid the foods that leave them feeling not-so-hot, but they choose them while knowing the consequences.
We use this strategy as part of our lunch plan during the school year, as well. Although my kids bring lunch from home most days, we give them the option to buy school lunch once a week. The food options at their school are not the best—chocolate milk in a plastic bag, corndogs, and slushies as a fruit option. It's hard for me to support that, but I also want to encourage my kids to make choices in the world on their own. And honestly, 9/10 times my kids turn down the option of school lunch. It makes me feel great knowing they are choosing to bring a healthy lunch from home!
#2. Educate kids on ingredients + reading labels.
In my household, we've made the decision to avoid corn syrup and food dye in all products. My kids know that we don't buy those things because they aren't good for our bodies. When we're out and about, whether at the grocery store or at Starbucks, my son Jackson reads food labels to look for these ingredients, and then can quickly decide if it's something we should eat or not. When my kids do occasionally ask for something with those products, they already know what my answer will be. I think being consistent and explaining to them WHY we don't buy those foods is super helpful!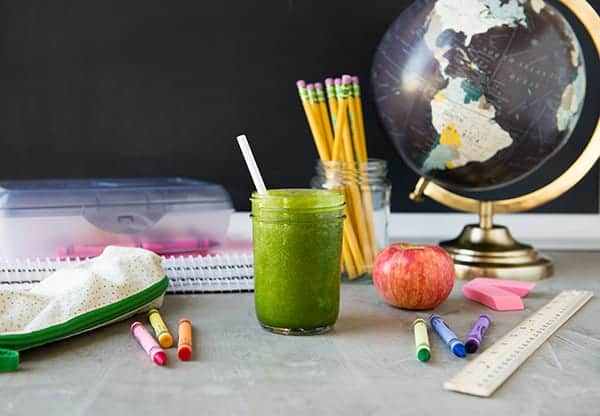 #3. Let kids in on WHY making healthy choices is important!
Like I said, when encouraging my kids to make healthy choices, the WHY is key! They need to understand why we choose fresh over processed, why we buy organic or non-organic, or why non-GMO is a winner. And they need to have a why they can relate to.
Here are some of the WHYs my kids know and love:
We want to have an easy time listening in class (and earn that treasure box prize!)

We want to grow tall and strong

We want to run faster than our friend

We want to have sweet dreams at night

We want to keep chemicals out of our cool body

We want to stay healthy and not get sick
I know to us, these may not be the most "mind-blowing whys", but for little kids they work. They create an instant connection that says "what I put into my mouth will have an effect on my body."
#4. Let kids be involved in the prep process + teach them how to cook!
Our kids love spending time in the kitchen to help prepare the food they're going to eat. They've now gotten to the age where they can even make their own school lunches! Right now, Jackson is 8 and makes scrambled eggs and green smoothies. He can cut fresh mangos, too! Clare is 7 and is able to cut strawberry tops off and help with the smoothies. It's been so fun to see my kids get more and more skilled in the kitchen as they get older. Plus, I have seen that with each new skill they are able to master, the more excited they get about preparing and eating healthy foods!
My kids' favorite green smoothie recipe to make is Beginner's Luck. They're obsessed with mango, so this one is a true winner is our house! They like to bring it to school as a refreshing treat (just be sure to use lots of frozen fruit so it stays nice and cold!).
I've learned that every family is different, and it may take some time to figure out what motivates and excites your kids to choose healthier options. Celebrate the progress (even the teeniest baby steps!) instead of focusing on perfection. As I always like to say, overtime, small steps can create big change!
Now it's your turn!
I'd love to see how these strategies work for your little ones! And if you have any tips of your own, please feel free share in the comments below.